LOCATION
>> A very charming neighbourhood!
Ahh Montmartre… I could talk to you for ever about this place. Picturesque stairs, its painters, its cable car taking us up to the famous white basilique, its vineyards, its cabarets and of course one of the most beautiful views of Paris. But I will let "The Lonely Planet Guide" do the talking telling you everything you need to know about this very touristic quarter.
Leaving me to tell you in more detail all about the area around the flat: Poteau Street. As soon as you come out of the tube Jules Joffrin opposite the town hall of the 18th district you will see that you are in a very authentic & lively part of Paris.
Lots of local shopkeepers (bakers, grocers, cheese shops & wine shops), quality supermarkets like Monoprix and lots of bars & restaurants. The market in Rue Ordener is well worth the visit as well as the bakery "Au Petrin d'Antan" which for several years has received the "Best Croissant Award" of the capital. I can also tell you that you can find the best Vietnamese Restaurant in the North of Paris here and how to re-assure your children with the best profiteroles.
To have a drink there is nowhere better than "The Renaissance" a jewel from the 30ties which has been used as a film décor for a recent film from Quentin Taratino. Where the fashionable "people" rub shoulders with "real" artistes. These local people and the image they give represents the authentic atmosphere of the 18th district.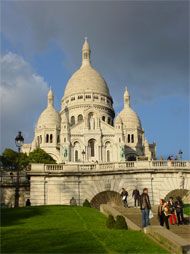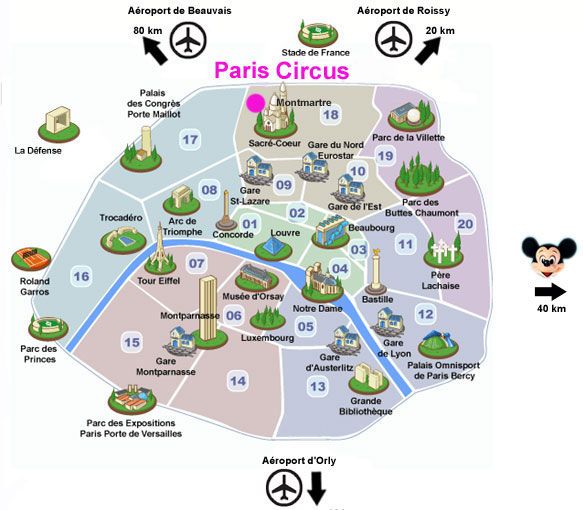 >> What the media say
RTL2 an important German TV chain contacted me to help them discover Montmartre in the form of a 50- minute documentary on Paris. So like this I met their team "by chance" in a local "creperie" and we strolled around the vines & went to the cabaret named "Le Lapin Agile", had a caricature done in Place du Tertre, drank Bordeaux from champagne glasses (!!) in front of the Sacre-Coeur and then finished up with a really good fondue. Ahhhhhhh!! Paris...

The same again the next day: breakfast on the terrace of the "Renaissance" then we prepared a picnic with the shopkeepers in the Rue du Poteau. Bread, ham fruit & vegetables and... another bottle of wine!
All the images are below if of course you master the language of Goethe…
TRANSPORTATION AND DIRECTIONS
>> By car
Drive to Porte de Clignancourt ("Périphérique" ring road). Free parking space in underground private car park (located 350 m away from the apartment, value 30 EUR per day). Maximum height: 2,05m
Frequently asked questions about the free car park
>> By public transport
The Flat is well served by the public transport. Here are some of the direct routes:
- Subway line 12, "Jules Joffrin" station, 540m away from the apartment (7 minutes) : Saint-Lazare (duration: 9min), Concorde (12min)
- Subway line 4, "Porte de Clignancourt" station, (500m / 6min) : Gare du Nord / Gare de l'Est (5min), Châtelet / Notre-Dame (12min), Saint-Michel (16min), Denfert-Rochereau (25min)
- Bus 80 (540m / 7min) : Champs-Elysées (23min), Eiffel Tower (29min).
- Bus 95 (map here) (100m / 1min) : Opéra (22min), Louvre Museum (29min), Saint-Germain des Prés (34min)
- Tramway T3b (240m / 3min) : Cité des Sciences et de l'Industrie "la Villette" (15min).
Routes with one connection:
- Roissy Charles-de-Gaulle airport (CDG): 1 hour (9,10 Euro) (FYI by taxi: 30 min / 50 EUR)
- Orly airport: 1 h 15 (8,60 EUR)
- Disneyland Paris : 1 h (7,00 EUR)
Tickets, metro & bus maps, luggage lockers and much more: check my free Paris transport guide!
THE NEIGHBORHOOD