FREQUENTLY ASKED QUESTIONS ABOUT THE CAR PARK
Amongst the 2 211 holiday rentals in Paris listed on Homelidays.fr less than 10% offer a parking space. So as you can see it is something very unusual... In my opinion I consider this as a necessity especially for families. That's why a free parking space is included with each guest room (when asked for with the reservation).
It is in a secure underground car park. I have never experienced any security problems. A parking space is assigned. You will receive the card on arrival at the same time as the keys.
Here are some frequently asked questions:
"How far is it from the apartment? What is the maximum size allowed?"
The parking is located 350 m away from the house. Maximum height: 2,05m.
- For the clients who drive a big saloon car the biggest car that can enter the car park is the same size as Audi A6 (length 4m94 & width 1m87).
- If you travel with a van the largest vehicle that you can park is a Volkswagen California (or similar like Renault Trafic): length 4,90m, width 1,90m, see picture below.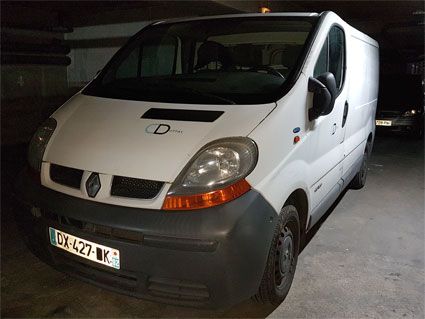 If your car is bigger than this you can always park in one of the local car parks in the area but at your own personal cost:
- 20 min walk: Parking Rédélé, maximum height 2m40, supervised 24 hours a day, 39 € per day (sliding scale prices), possibility to book either directly by phone at 01 43 87 57 18, website, or online on Parclick. 11 rue Forest, 75018 Paris
- 20 min away (metro): Garage d'Abbeville, maximum height 2m20 or 3m60, 48 € per day, reservation required either directly by phone at 01 48 78 98 37 or parkabbeville@orange.fr or online on Parclick. 5 Rue d'Abbeville, 75010 Paris
"Can we park in front of the apartment just to load/ unload our luggage?"
There are parking places in front of the house. If one is free it will be your lucky day so park your car straight away. If not you can find a small place a bit further up where you can stop for a short while using your hazard warning lights so as not to block the traffic.
"On the departure day can we keep the parking card up to the evening?"
I'll collect the parking card with the keys at checkout for the next guests. You can always park in another car park nearby (10 min walk): SAGS (video here), maximum height 1m90, supervised 24 hours a day, 32 € per day from Tuesday to Friday and 43 € per day from Saturday to Monday, no reservation. 30 avenue de la Porte de Clignancourt, 75018 PARIS, phone 01 42 64 03 82, website
Reminder: parking is free in Paris in the street on Sundays and public holidays.
"Is the street & parking available 7/7 & 24/24"
Yes.
"We are travelling with a roof- rack, can we take it down and leave it in the apartment?"
Unfortunately this is impossible even if you promise to be careful. There is not enough space in the property for such an object. The solution would be to leave it on the car if it does pass the maximum height allowed, or take it off but leave it inside the car.
"We are travelling with bikes. Can we leave them in the apartment?"
The reply is the same for the roof –rack. It is forbidden to put Bikes /Cycles in the rooms. I advise you not to leave them in the street as they could be stolen, so the best solution is to leave them in the car. For your info: There is a bicycle network in Paris called Vélib' which has 1000 bikes locations all over Paris. Very practical and inexpensive.
"We are coming with 2 vehicles can we have an extra card for the car park?"
There is only one free parking space per apartment. I do not allocate any extra parking spaces for additional cars which can be parked an a car park nearby.
Video: Entrance (cars and pedestrians)
Video: Exit for pedestrians

"Do we need a car for holidays in Paris?"
Honestly ? No no & no ! For lots of different reasons.
- Paris has one of the best public transport systems in the world. With 60 bus routes & more than 300 underground stations with trains every few minutes low priced tickets. The flat itself has 2 underground lines & 3 bus routes just 500m away. Why hesitate ??
- Driving in Paris is very stressful! If you don't drive off the minute the light turns to green you can be sure of dozens of Parisian car hooting drivers ! Undisciplined pedestrians & drivers who never give way. Respect the highway code scrupulously (some roads are so badly designed that you could find yourself in the bus lane without meaning to). Beware of the radars for speeding and jumping the lights and be ready to avoid scooters all the time.
- The traffic jams become uncontrollable particularly at rush hour (7h30am – 10am and 5pm – 8pm during the week), when it rains and when there are lots of events organised in the capital (demonstrations, marches, Paris Marathon, Christmas shopping, the Music Festival & the 14th of July procession)
- Parking spaces are very rare and cars are often scratched by drivers who park bumper to bumper (which incidentally makes my German clients furious as in Germany the same situation needs to write an accident report). Good to know if you rent a car.
- You need to have a "Crit'Air" sticker (certificate of air quality).
In my experience the only people needing to move around by car are those who have difficulty walking or those going to visit places on the outskirts of the town centre (the House of Monet at Giverny or the Chantilly Castle etc.).
If arriving from a train station or an airport the taxis are perfectly capable of taking you.