FREQUENTLY ASKED QUESTIONS ABOUT THE CAR PARK
Amongst the 2 211 holiday rentals in Paris listed on Homelidays.fr less than 10% offer a parking space. So as you can see it is something very unusual... In my opinion I consider this as a necessity especially for families. That's why a free parking space is included with each guest room (when asked for with the reservation).
It is in a secure underground car park. I have never experienced any security problems. A parking space is assigned. You will receive the card on arrival at the same time as the keys.
Here are some frequently asked questions:
"How far is it from the apartment? What is the maximum height allowed?"
The parking is located 350 m away from the house. Maximum height: 2,05m.
If you travel with a van the largest vehicle that you can park is a Citroën Spacetourer (or similar): length 4,60m, width 1,92m, see picture below.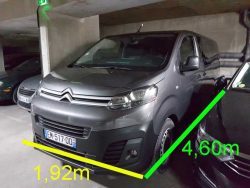 "Can we park in front of the apartment just to load/ unload our luggage?"
There are parking places in front of the house. If one is free it will be your lucky day so park your car straight away. If not you can find a small place a bit further up where you can stop for a short while using your hazard warning lights so as not to block the traffic.
"On the departure day can we keep the parking card up to the evening?"
I'll collect the parking card with the keys at checkout for the next guests. You can always park in another car park nearby: SAGS (Porte de Clignancourt).
"Is the street & parking available 7/7 & 24/24"
Yes.
"We are travelling with a roof- rack, can we take it down and leave it in the apartment?"
Unfortunately this is impossible even if you promise to be careful. There is not enough space in the property for such an object. The solution would be to leave it on the car if it doesn't pass the maximum height allowed, or take it off but leave it inside the car.
"We are travelling with bikes. Can we leave them in the apartment?"
The reply is the same for the roof –rack. It is forbidden to put Bikes /Cycles in the rooms. I advise you not to leave them in the street as they could be stolen, so the best solution is to leave them in the car. For your info: There is a bicycle network in Paris called Vélib' which has 1000 bikes locations all over Paris. Very practical and inexpensive.
"We are coming with 2 vehicles can we have an extra card for the car park?"
There is only one free parking space per apartment. I do not allocate any extra parking spaces for additional cars which can be parked an a car park nearby: SAGS (Porte de Clignancourt).
"What does the car park look like?"